&nbsp
All The Colours Of The Rainbow – Resin Bound Stone Samples
Resin Bound Stone Samples
Resin Bound Stone Samples – All The Colours Of The Rainbow
This is why they say variety is the spice of life.
No two people are the same, even identical twins.
Everyone is unique and has particular tastes, preferences and desires.
This is yet but another reason why Resin Bound Stone is soaring to the top of everyone's Christmas wish list.
Choose Whatever Design Is Best For You
Colour match your property? 
A Resin Bound Stone Driveway will add value on to the price of your home. But just like a well painted interior, a colour-matched Driveway to your home will add that extra bit more oomph and £££. Plus you'll appreciate looking at it daily.
Make it glow in the dark? 
A fairly recent development in the technology of Resin Bound Stone, is glow in the dark aggregate.
Perfect for the long dark Winters! And to guide your way through all nights and dark days to come.
Imprint names or numbers in to the surface? 
Maybe you want to personalise your driveway with your home's name, or maybe you want your house's number in big font because the Postman keeps mixing up your mail.
Either way, we can provide that for you.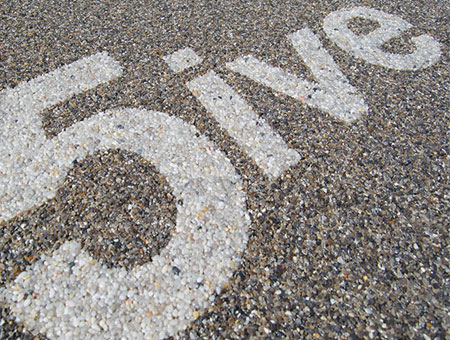 Produce varied colour sections. 
Do you want a border or graduated coloured paths?
It's definitely something eye-catchingly different, and not out of the realms of possibility.
The Samples
Just take a look at some of these aggregate options which you can choose from to make up these Design options.
There is no other surfacing options which comes even slightly close to this possibility.
Fancy upping the game even more so?
Resin Bound Glass.  
If you want to up the game even further, look at these!
The benefit of this beauty is that it can also be installed internally too!
Imagine your pool room or bar area glittering with Resin Bound Glass!
Don't wait until you've missed the boat, contact us to get your Complimentary Design Consultation now!
Or take a look at some of our work here.